Outfitting
With the proximity to the Root River and the Root River State Bike Trail, you can enjoy the outdoors and experience the beauty of the area near Eagle Cliff Campground. We offer canoe, kayak, tube and bike rentals.
The canoe, kayak, and tube outfitting is open to the public.
You do not have to stay with us to do outfitting rentals or shuttles!
RESERVATIONS ARE REQUIRED IN ADVANCE
Call us at 507-467-2598 to Make Reservations
NOTICE
We will not be renting canoes and kayaks due to the low river levels.
We will be changing our tube trip times to 11am, 12pm, 1pm and 2pm.
Until further notice
CANOE RENTALS
Days Available: Everyday
Departs: 9:30 a.m. and 11 a.m.
2 Hour Trip | $30
4 Hour Trip | $40
(Add $10 for 3rd person 12 & older)
Shuttle Only | $15
(Bring Your Own Canoe)


KAYAK RENTALS
Days Available: Everyday
Departs: 9:30 a.m. and 11 a.m.
2 Hour Trip | $25
4 Hour Trip | $30
(Single Kayaks Only)
Shuttle Only | $15
(Bring Your Own Kayak)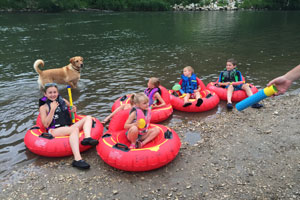 TUBE RENTALS
Days Available: Everyday
Departs Thur-Sat: 12, 1, 2 & 3 p.m.
Departs Sun-Wed: 12, 1, & 2 p.m.
Single Tube | $15
Cooler Tube | $10
(Shuttle Included)
Shuttle Only | $10
(Bring Your Own Tube)

BIKE RENTALS
For Eagle Cliff Guests Only

Days Available: Everyday

Full Day | $25
(8 Hour Rental)
Half Day | $14
(4 Hour Rental)
Outfitting Information & Policies